Family Camping & Resort Numanablu
Where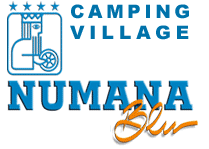 Camping Village Numana Blu, 4 stars, is found along the seafront to the south of Numana, 1.5 km from the town of Marcelli, 300 metres from the sea.
Sporting Club
Animation
Bungalow
Description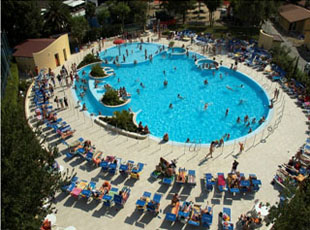 The Camping is surrouded by a green area with more than 12.000 trees of all kinds and rose gardens. It covers a 80.000 square feet area and it is divided into three areas: the village site with 241 bungalow and small villas, very comfortable for 4/5 persons, with portico, private garden, kitchen , shower and completely furnished; the campsite with 450 large shady pitches with 5 bathrooms blocks; the entertainment site with an exciting and organised programm of activities.
Information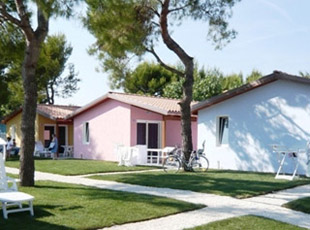 The camping is provided with the following sport equipments: 2 pools (a large one and a small one for children), two tennis-courts with lighting, one free field for: (soccer, volleyball, basket), a children entertainment area, 2 tennis-table and 2 bowls fields. The programme of organised activities includes: organised games, sports tournaments, tennis courses, football, spinning, dancing classes, watergym, fitness courses, evening shows, disco, excursions ( bikes and helmets are provided by the camping) walks along the 18 park paths. Younger guests are divided into different age groups in the Miniclub (aged 4 to 8), Maxiclub (aged 9 to 13) and the Junior club (aged 14 to 18).
Services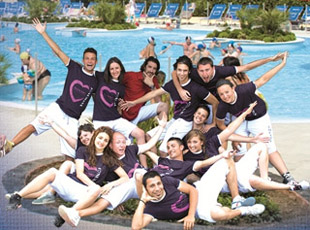 Services included in the price of the bungalow:
Water, electricity and gas, car-parking space, final cleaning, bed linen and towels (for each guest 1 bathroom towel, 1 face towel and 1 bidet towel) with weekly changing, beach service (2 loungers, 1 beach umbrella and communal dressing rooms) with bus shuttle service.
Free services for all guests:
organised activities, entrance to swimming pool, group tennis courses, disco.
Services available:
restaurant, pizzeria with wooden oven, self-service restaurant, supermarket, bar, tobacconist, newsagent, photographer, bike rental, token-operated washing machines, medical assistance, internet point.
Prices
Video
---
Photogallery