Porto Recanati, Conero Riviera
Porto Recanati: the sofa of the Riviera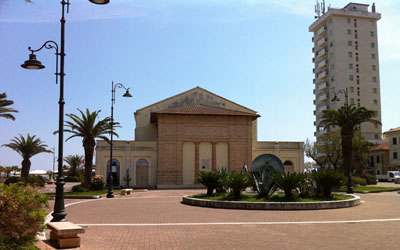 Nine kilometers of beaches, shining waters and warm ospitality, everything inserted on a landscape of exception: the Monte Conero.
Blue Flag
Landscapes and fun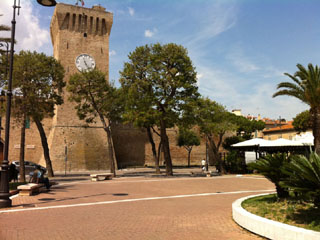 Porto Recanati has been a bathing resort for more than one century. Being situated at the seaside with the marvelous frame of the Monte Conero it offers the tourist the possibility to spend serene and relaxing holidays. To those who come to visit her, she presents herself as a lovely town of fishermen with the sea being the natural place of relaxation and holiday. The beach promenade, completely closed to the traffic, invites you to take relaxing walks among the typical houses in every minute of the day. Numerous traditional events contribute to render Porto Recanati a city even more pleasant.
A little bit of history and art
The southern part of Porto Recanati still preserves the remains of Potentia, a roman maritime colony founded in 184 a.C. and abandoned in V cent. d.C.; the nearby abbey of S.Maria was instead founded in the XII cent. The history of the actual city begins in the 1299, when Frederik II ordered the construction of a castle and of a port in between the two rivers Potenza e Aspio; the castle was completed in the XV cent. (then destroyed and rebuilt many times), while the big port remained always a utopia. In the XVI cent. the city changes its name to Porto Giulio, in honor to the pope Giulio II – and during this period was built the church of the Banderuola, where in 1294 the Holy House made a halt in its translation into Italy. Always linked to the city of Recanati, Porto Recanati reached authonomy only in 1893. A note of interest goes to the Picture Gallery Moroni. The court of the castle hosts today the Arena dedicated to Beniamino Gigli, place of numerous events and manifestations.