Sirolo-Conero Riviera
Sirolo: the jewel of the Riviera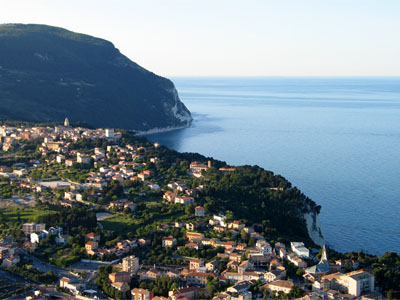 This lovely medioeval town, linked with the mountain and its traditions, is from the artistic and natural point of view one of the most beautiful resorts of the Riviera: that's why it's known as the Cònero's Jewel.
Blue Flag
Between nature and landscapes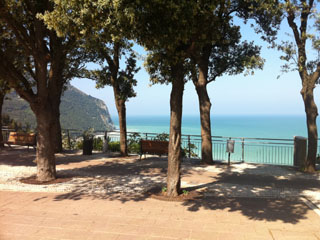 Wild beaches, steep cliffs, caves, white rocks covered by pinewood overlooking deep and transparent seawater, make of Sirolo the ideal place to discover a still uncontaminated nature. The tidy medieval centre, sunny and windy, is sheltered by the green promontory of Monte Cònero and it is surrounded by a sea rich in fishes and hills cultivated with wheat, olive and grapes. The unique landscape can be appreciated from the balcony-main square, the very heart of summer life, with many different open-air parlours where you can enjoy ice-cream.
A little bit of history and art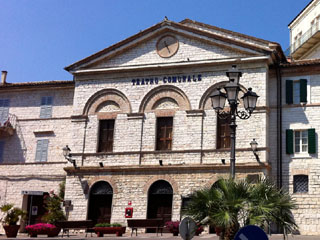 Already civilized during the paleolithic, the territory of Sirolo is conquered by the Piceni, the population which founded also Ancona; their presence is testified by interesting remains located at the archeologic area "i pini". In the Middle Age it became an invincible fortress, in order to defend itself from barbarians and pirates: the actual layout of alleys and suggestive small streets comes from this period. During the 11th century, the town was a fief of Cortesi Count, nobles of franco-german origin: in this period, they donated to the Benedettini friars the church of Saint Peter. Then the fief turned into Papal possession; the Curch's domination pushed the construction of new churces, like the church of San Nicolò and of the Rosario. Also the three notable villas, all private and not visitable, have to be mentioned. The inhabitants of Sirolo (3200) are well proud of their history, of Monte Conero and of the old traditions of their city. They welcome visitors with a series of valid initiatives, first of all the summer theatre program called "Teatro alle Cave", the setting being old caves in Monte Conero. The symbol of the town is the "branzino", a fish living in these clear sea waters.