Conero Park
Regional Natural Park of the Conero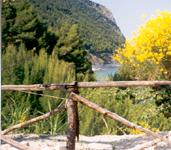 Cònero Park
Monte Conero, a paradise in the south of Ancona, is truly unique. Here you'll find rock caves and white limestone cliffs totally unlike any other of the Adriatic, from Trieste in the north to the southern "spur" of Italy, the Gargano – a much more Mediterranean experience. The panoramic road winding along the coast offers a spectacular view of many pebble beaches. The area is a regional natural park and a web of signed trails up to the peak. On the top, remains of Palaeolithic settlement dating back 100,000 years have been discovered – the earliest signs of human presence in the region.
Information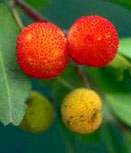 The Monte Conero massif (572 metres on the sea-level) leaves an impressive mark on the coast and is characterized by its unique flora and fauna. The institution of the Park dates back to 1987 and its aim is to protect on safeguard nature. Its position half way up the Italian peninsula has made it an important meeting point for many species of northern and southern European maritime flora, including rarities like Bellevalia dubia, Fumana arabica and Aspodeline liburnica. The park boasts over a thousand species of wild plants, as well as a rich bird life. And if that's not enough, the views and panoramas over the sea are stunning.
It's an environmental oasis that extends over 5800 hectares of protected areas, (Portonovo Bay, the Two Sisters ("Due Sorelle") beach, North Belvedere, Piangrande, Raggetti Plain, etc.). There are 18 escursionistic tracks which unfold between Broom bushes and Arbutus Berry trees, the shade of pines and holm-oak trees, all part of the magic of the Mediterranean bush. In addition there are great treasures of art (Santa Maria of Portonovo and San Pietro of Conero), culture and history (Roman archaeological sites), not to mention specific geologic itineraries.