Loreto
Visiting time 3 hours.
Distance from: from 6 to 14 Km.
THE CITY-SHRINE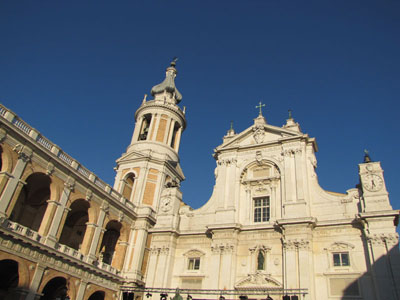 Loreto is the centre of devotion to the blessed Virgin Mary, thanks to its the famous shrine enclosing the Holy House (Santa Casa).
GETTING THERE
From the Riviera seaside the tour moves to the land of faith and art. Our route avoids the busy coastal road and leaves the backdoor along more quiet and pretty roads, passing through the Conero Park to reach the main street SS 16. Driving southward (towards Pescara), after about ten kilometres, we turn right at the exit of Loreto and drive up to the town. The A 14 motorway, the main SS 16 and SS 77 streets are the Italian arteries to reach Loreto.
VISITING LORETO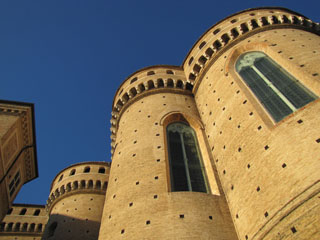 Already from far away we can recognize Loreto as a City-Shrine. The church's dome and bell tower stand out over the compact cluster of buildings forming the old town, still encircled by the XVIth century town walls and massive bastions. The origin of Loreto is linked with the legend of the transferral of Mary's House by angels in 1294. It arose as testimonial to a miracle. In a short time the town got a famous worship and a pilgrimage centre; in 1469, with the construction of the new fortress-church, ordered to defend the Holy House, Loreto started to develope. Our itinerary explores the very heart of the city: piazza della Madonna. Parked your car outside the town walls, the main square can be reached from Corso Boccalini Main Street, from Sisto V street or from Porta Marina. The square, embellished by a XVIIth century fountain placed at its centre, is bordered to the east by the facade of the Basilica. The Basilica, between the late Gothic and the Renaissance style, is worth a visit. Inside the church, in the presbytery beneath the dome, is the Holy House. The walled "Chamber" of Our Lady in which Mary was born, was fostered and received the angelic annunciation, is protected by the Marble Screen: projected by Bramante, it preserves the Statue of the Blessed Virgin garbed in the traditional dalmatian robe. Many of the most talented architects and artists of the Renaissance worked on the construction of the Basilica: Baccio Pontelli, Andrea Sansovino, Giuliano da Sangallo, Luca Signorelli, Pomarancio, Luigi Vanvitelli, Melozzo da Forlì.
The Museum Gallery of the Holy House, is also worth a visit. It is housed on the upper floors of the Apostolic Palace, in the north-west part of Piazza della Madonna, and preserves objects and paintings coming mainly from the Basilica. Outstanding among all art objects, eight estimable canvasses of Lorenzo Lotto, a fine collection of Renaissance ceramics and ten Raphaelesque tapestries. Exiting the museum, we can then discover some typical city sights walking and shopping in Boccalini Main Street, looking at the apses from piazzale Loreto and at the landscape from piazza Giovanni XXIII.