Recanati
Visiting time: 5 ore.
Distance from Riviera: da 12 a 21 Km.
RECANATI: THE BIRTHPLACE OF GIACOMO LEOPARDI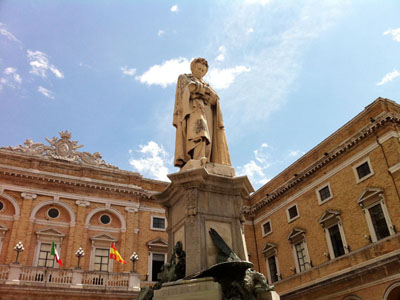 Recanati is the birthplace of Giacomo Leopardi, one of the most famous Italian Romantic poets, and Beniamino Gigli, a great tenor of this century. In addition the Civic Museum holds many of Lotto's paintings.
GETTING TO RECANATI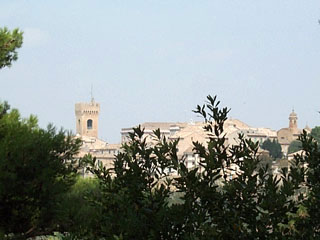 The tour takes you far from the coast towards the poetic atmospheres of the inland. Recanati is easily reached from the Riviera by a panoramic road passing through Conero park and leading to SS 16.Travel towards Pescara; after Loreto and before entering Porto Recanti turn right for Recanati. A road going uphill for 10 Km joins the main SS 77. Now you can see the ancient town standing on the hill between Musone and Potenza valleys. The route offers a spectacular view of the countryside and gentle landscape. However Recanati can be easily reached by A 14 motorway and SS 77.
VISITING RECANATI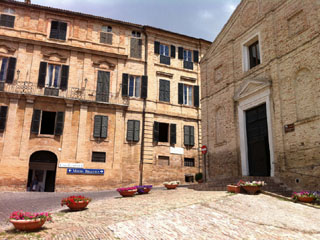 In order to discover the town of Recanati you should start with the Leopardi Palace,the ancestral home of the Leopardi family and the birthplace of the poet his descendants still live in this palace today. The residence is in Piazza Sabato del Villaggio. The writer's objects and manuscripts exposed in the Palace allow us to learn more about Giacomo's life; then you can visit the valuable library collection by his father, Conte Monaldo. From here follow the signs to Tabor hill, the famous hill of the "Infinite": it offers a breathless panoramic view.
Back to Leopardi Palace you will pass through Rome, Calcagni and Cavour streets. Along Calcagni street is the church of Sant'Agostino: its old tower was celebrated by Leopardi's poem "Passero Solitario". Moving on you'll arrive in Piazza Leopardi, the town's central piazza, where the ancient Village Tower faces. Just in the middle of the square is the monument dedicated to Leopardi; behind it, there is the Town Hall, where the Beniamino Gigli Museum is located. The museum is worth a visit: it holds 28 stage costumes, numerous wings, neck ornaments , various footwear and photos of the great tenor born in Recanati.
From Piazza Leopardi, Corso Persiani takes us to the Cathedral, hosting the Diocesan Museum. Nearby is Villa Colloredo Mels, a magnificient 18th century Villa. The tour ends with a visit to the new Civic Museum housed in the Villa. It preserves Recanati's greatest art treasure, a room with four of Lorenzo Lotto's finest paintings, including the most haunting Annunciation.