Restaurant Da Silvio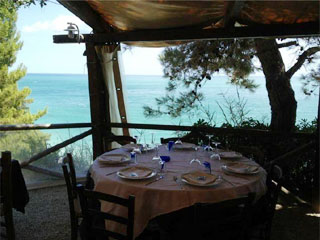 Location
Restaurant Da Silvio is located within the Cònero Regional Park, nestled in the green Mediterranean bush, just a short walk from the Sassi Neri beach.
Weekly closing: open daily and all day (at all times you can eat) lunch and dinner
Fish always fresh daily
The Restaurant
Restaurant da Silvio is not only a place to eat good seafood, it is also a place to enjoy a unique view.
The cuisine is well prepared and the fish is always fresh daily. Two boats that set sail from the port of Ancona every morning supply the Ristornate daily, which is also why the quality of the dishes prepared is excellent.
The kitchen
The daily search for the best catch, the "sacrifice" of always offering the best products, is constantly found in the flavors of the dishes offered by this restaurant. The appetizers, consisting of shellfish and mollusks from the Riviera, are excellent and varied.
The kitchen also offers delicious sauces, especially those made with shellfish. The catch is enhanced in main courses, where they find splendid pairings even with very simple condiments.
---
Photogallery
---
Map